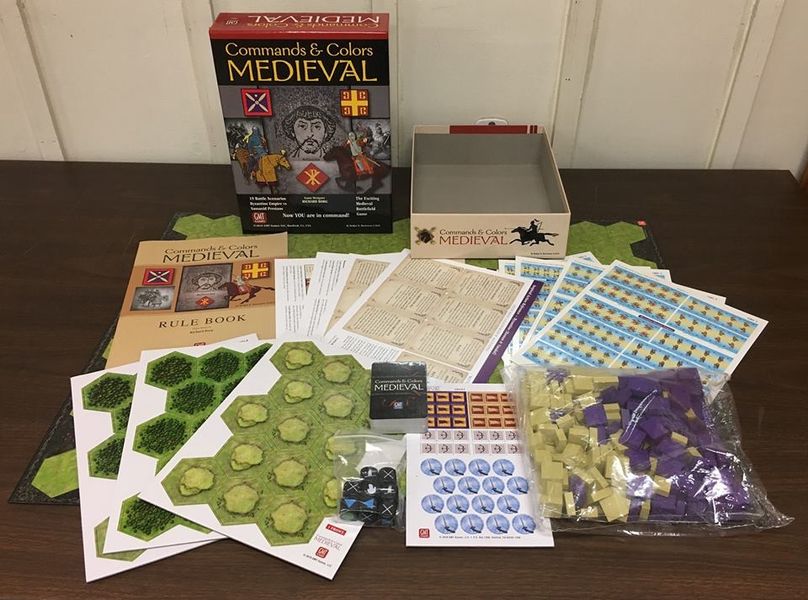 CCM box contents, image from BGG
Commands & Colors: Medieval (CCM) arrived last week after a production delay of over a year. The timing, in terms of my wargaming interests, couldn't have been better.
I originally ordered CCM based on my love for its predecessor, Commands & Colors: Ancients (CCA) and an interest in Sassanian Persians. At the time I didn't care too much about their western rivals, the Byzantines, or the medieval period in general; I was an ancients gamer through and through. I loved the aesthetic of Aventine Miniatures' Sassanian line, but I didn't know enough about their history to embark on a clear wargaming project.
Fast forward to a year later, and I've taken the plunge into Dark Age wargaming, building a Late Roman army in 28mm and starting to familiarise myself with Procopius and the exploits of Belisarius, who led Byzantine emperor Justinian's reconquest of the West whilst fending off the Sassanians to the east.
The enlargement of the Roman Empire possessions between the rise to power of Justinian (red, 527) and his and Belisarius's death (orange, 565). Belisarius contributed immensely to the expansion of the empire. (Source: Wikipedia).
CCM focuses squarely on the exploits of Belisarius and the Eastern Roman Empire, but opens with a few choice battles involving Attila's Huns and the fall of the Western Roman Empire. Scenarios stretch from Utus River, 447 AD to Solachon, 586 AD, putting this squarely at the start of the medieval period of Western history (5th to 15th century).
This has been a cause for confusion amongst some reviewers, who assumed 'medieval' only applied to the post-1000 period of the High Middle Ages: crusaders, tin men on horseback, the Hundred Years War and the like. The artwork on the cards and board certainly suggests high medieval illuminations and one can only assume that the publisher intends to work their way gradually through the period. Designer Richard Borg has indicated on the forums that he has recently completed work on the viking period.
For marketing purposes it may have been clearer - and perhaps more cynical - to brand this as Commands & Colors: Dark Ages and ride on the broader enthusiasm for this period amongst wargamers, but more serious aficionados of history frown on the term 'dark ages', preferring 'early medieval', and GMT publishes for a serious crowd.
Differences between CCA and CCM
CCM has a Tan army representing the Sassanians, Huns or Vandals and a Purple army representing the Western Late Romans and Eastern Byzantines.
For those coming from the rest of the Commands & Colors system it's best to see CCM as an evolution of the Ancients game. Similar units and a similar card deck are here with some subtle tweaks and additional chrome.
The green Light Infantry class is entirely gone, as are slingers, leaving only Light Bow and a modified Auxilia for light infantry, Warriors and more mobile Medium Infantry for medium foot, and a much diminished presence of Heavy Infantry (who now attack with four dice, not five) as cavalry became ascendant with the advent of Late Antiquity. CCM Auxilia function like a hybrid of Light Infantry and Auxilia in CCA, and are overall weaker in combat and more mobile than their CCA counterpart.
If the ancients period and CCA were focused on the power of infantry, and in particular the heavy foot of the legion and phalanx, the transition to the medieval period is handled by CCM as shift in the balance of power to favour cavalry.
Approximately half the blocks for each of the two armies are cavalry. CCM cavalry now have four blocks instead of three. Heavy Cavalry now has a Super Heavy Cavalry category which enjoys better protection from sword hits. Rules for Superior Armor Class and Superior Stature allow higher class units to cancel sword hits from lower class units, and cavalry to cancel a sword hit from infantry units in close combat. A heavy cavalry unit could potentially cancel two swords from an inferior infantry unit, which pushes Auxilia down in power closer to the extinct Light Infantry of CCA.
Medium and Heavy Cavalry can be bow-armed reflecting the influence of Persian and steppe warfare. With two dice at a range of three hexes there is some limited potential for battles of attrition and evasion, but I do not foresee ranged combat being very decisive unless Darken the Sky is used. Likely, gameplay will reflect history and arrows will soften up troops until heavy cavalry can unleash a decisive charge.
The game board is also deeper at 13 hexes wide by 11 deep (versus 9 deep before) to allow for more cavalry action and it will also be more forgiving of cavalry retreats.
Evading units must now move two hexes back, no more no less. Subsumed under the Evade mechanic is a simple Parthian Shot rule that allows Light Bow Cavalry a two dice shot before evading. I'm looking forward to using bow-armed cavalry to draw out an opponent's troops and break up their battle line.
While cavalry are now stronger than infantry I wouldn't expect that battles can be entirely won by cavalry. The principles of CCA still apply and a combined arms approach should still find success. A contiguous battle line is rewarded with support against flag retreats and the use of the Line Command card.
Shock tactics with Warrior units are likely to become significant. With the right cards and timing Warriors can be the most heavy-hitting infantry unit, potentially hitting with five dice whilst charging two hexes.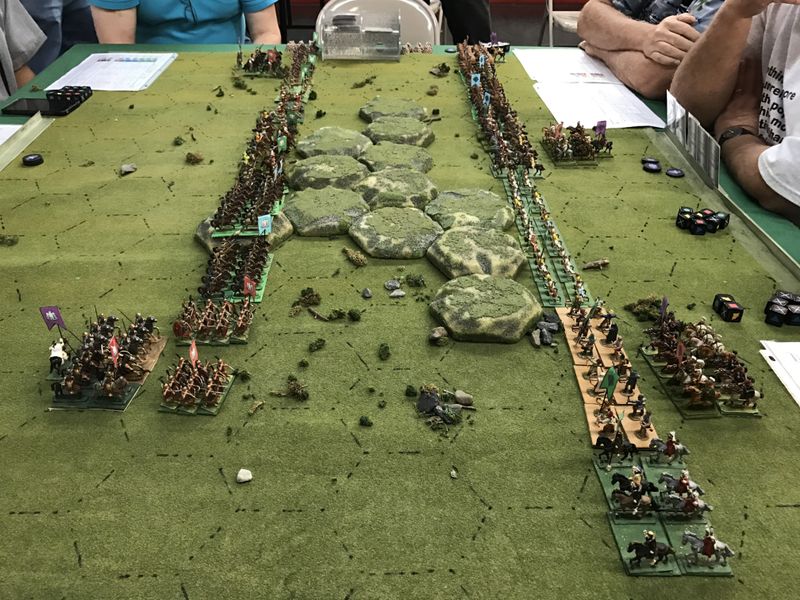 CCM playtest with minis, pic from BGG
Some wargaming fans of the Sassanians may be disappointed to learn that there are no elephants present, though they were in use in this period but possibly more for sieges than battles.
Inspired Actions
A major new mechanic is the Inspired Action. In addition to their Command cards each side gets a number of Inspired Action tokens that can be used with a Leadership Command card to produce a number of special effects such as Mounted Charge, Foot Onslaught, Rally, Fire and Close, Darken the Sky, Move Fire Move, and Redeploy. Most of these replicate Tactic cards and help represent exceptional generalship responding to circumstances of battle. Each army in CCM will have its own selection of Inspired Actions. The Byzantines and Sassanians have the same options bar one. Some cards such as Scout will allow you to gain Inspired Action tokens.
If you wanted your C&C general to pull off tactical flourishes ala Hannibal or Caesar, this is a mechanic that allows a modicum of player choice amidst the fog of war imposed by random Command cards.
Scenarios
Particularly welcome in CCM are the numerous scenarios depicting Belisarius' campaigns against the Sassanians and Vandals. Published scenarios of this period are few and far between, and those I can think of, GMT's own
Cataphract
(under their Great Battles of History) and Simon MacDowall's
Comitatus
, only cover Dara and a few others. CCM has nineteen scenarios, albeit nearly half of them focus on several aspects of key large battles of the period. This is similar to the approach taken in
Samurai Battles
.
Personally, these will save me a lot of work figuring out scenarios when I eventually get around to gaming this period with miniatures and other rulesets. I've already got a sizeable Late Roman force building up and CCM provides a good framework to figure out what Sassanians to buy.
Even for those unfamiliar with the early medieval period there are some great military personalities featured in these scenarios. There is Attila the Hun versus Aetius at Catalaunian Plains 451 AD and there are the exploits of Byzantine general extraordinaire Belisarius, arguably the Hannibal of his age, who led the reconquest of the Western Roman Empire for Constantinople. Belisarius' Italian campaigns against the Ostrogoths are left out here, with the focus on retaking North Africa from the Vandals. This keeps the action cavalry heavy.
I suspect that Belisarius' Italian campaign and more will be covered in future expansions. As hinted in the rulebook there are many more battles against "Visigoths, Moors, Ostrogoths, Franks, Alemanni" that will likely see more Warrior-heavy armies in the future. We could also expect more battles from the Late Antique period if the Hunnic War scenarios are anything to go by. With its extra focus on cavalry CCM is better equipped as a ruleset to handle the warfare of the Late Roman Empire than CCA. It might be tempting to cook up some Arthurian scenarios under this ruleset, too.